About Jordan Ridge Builders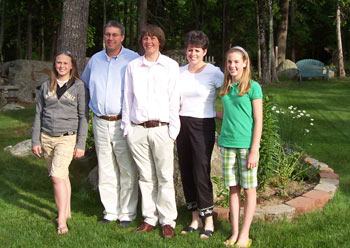 The Jordan family
Jordan Ridge Builders is a family-owned business located in Ellsworth, Maine near Acadia National Park in DownEast Maine. Owner Peter Jordan, with 25 years of experience in the building trade, is experienced in new home construction, restoration, garages, camps, cottages, garden and storage sheds, roofing, siding, and ICF construction.
Peter and his wife, Emily, bring their individual talents to the business. While Peter handles the general construction work, Emily's contribution is with interior finish work and some occasional interior decorating.
After buying a Maine farmhouse in 1985, the Jordans undertook the challenge of their first restoration project. This opportunity provided them with valuable first-hand experience for determining the best plan, restoration methods, and materials to use in restoring a home. Many years later, and after bringing numerous structures back to life, Peter says, "I can restore them with ease and truly enjoy this part of my work as a carpenter".
New building materials and greener building solutions
Recognizing the need for Maine homes that are built and designed with energy-efficiency in mind, Jordan Ridge Builders stays up-to-date with the latest materials and methods for more environmentally-friendly, and energy conscious.
By attending building professional seminars for materials such as ICFs (insulated concrete forms), or wood-clad insulated windows and doors, Jordan Ridge Builders understands how to maximize the benefits of these products in terms of energy-efficiency without sacrificing architectural style.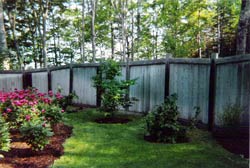 Peony garden landscape on Mount Desert Island
Landscaping to create a more unified theme
In addition to his passion for building, Peter Jordan is a gardening enthusiast who has provided landscape design and installation for his construction clients. In meeting with a client when planning a home construction or restoration, Peter is able to learn about the homeowner's overall vision for the property, and can then compliment the finished building project with landscaping in keeping with the home's style and site location.
MEMBER OF