About ICF Construction
(Insulated Concrete Forms)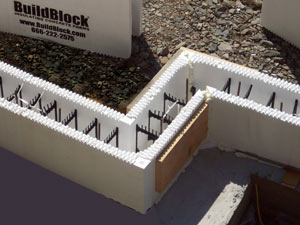 ICF before being filled with concrete
When building a home in Maine, energy efficiency is an important consideration. A home constructed with ICFs provides numerous advantages when compared to conventional wood construction. ICF can be used for a full foundation or a frost wall, and is ideal for daylight basements. These blocks can be formed directly to ledge to give a natural esthetic look.
Advantages of ICF Construction:
Energy consumption reduction and cost savings of 30-70%
More resistant to extreme weather conditions than wood
Maintains a more consistent indoor temperature
Filtration of dust and allergens from the outside is reduced by 75%
Outside noise reduction of up to three times that of a wood-frame home
Environmentally sensible material saves at least 10 trees per home
What does an ICF home look like?
Finished structures constructed with ICFs are indistinguishable from their traditionally-framed counterparts. ICF construction can be used to build virtually all home designs, and its uniform exterior can be clad with vinyl, brick, clapboards, or cedar shingles, hardy plank, or log siding.
Interior finishes can be sheetrock, v-match pine, paneling, or wanescoting with sheetrock above. ICF also allows for a deep windowsill for plants or pets. Jordan Ridge Builders is here to help with any questions you may have on this product or building method.
More information about ICF home construction